Reignite Your Passion for Film with A Home Theater Installation
Did You Know Movies Could Look This Good?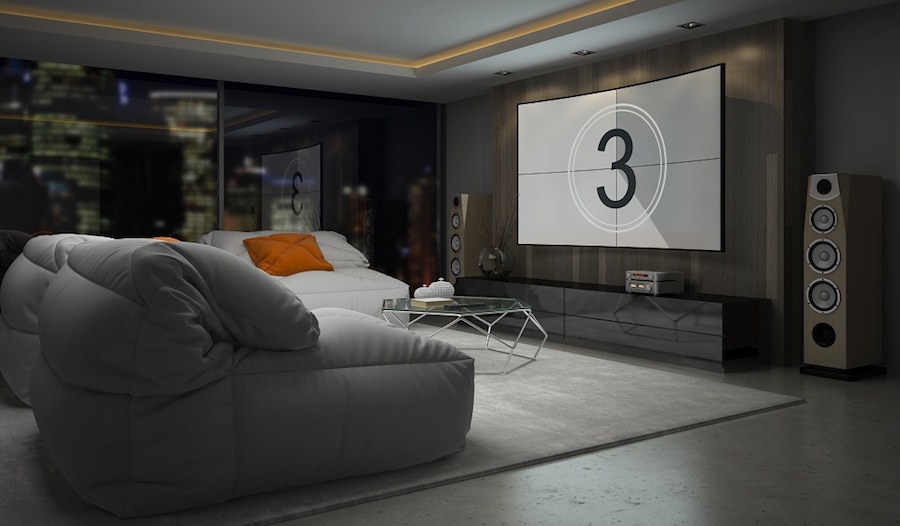 Movies hold a special sway over us. The medium evokes both an emotional and philosophical response, causing us to cry, laugh, and cheer—often all at once. It is one of the few art forms we build ornate temples dedicated to the act of appreciating them.
A home theater installation recreates the thrills and excitement of the cinema at home. Our team of designers and installers are certified to create an experience that exceeds your highest expectations.
Are you intrigued by the possibilities for your San Diego, CA smart home? Unsure what your options are? Continue reading below to learn more.
See Also: Improve Your Home Wi-Fi with an Expert Installation
CINEMA REINVENTED
It has been over 125 years since moving pictures made their debut. First opened in 1896, cinemas were built to reflect the grandeur and anticipation of the new way of storytelling, with fantastic themes, rich drapery, and gilded impressions.
When building a private theater, you want to recreate the excitement and ambiance of a movie house with superior equipment and immersive moments. We work with your architect and interior designer to create the perfect complement of technology and aesthetics.
SEE IN NEW WAYS
While decor sets the stage, how a film looks, feels, and enthralls you is paramount. Modern home systems envelop you in sound and vision that meets or more often surpasses the highest quality multiplexes.
Of course, the larger the screen, the more impact a video will have. Recent innovations in short throw projectors and 70-inch LED screens provide the same stunning imagery in smaller spaces. You can now enjoy true-to-life colors, amazing depth-of-field, and even true cinema widescreen resolutions in rooms or on yachts that would have once been considered unsuitable for a theater.
Home theaters don't have to be for movies only. Today's advanced adaptive processing and HDR technology follow the fastest action sports with unparalleled detail and accuracy. It's like being right on the sidelines.
SOUND FOR VISION
The noted director Alfred Hitchcock stated that a well-crafted movie's plot should be understandable even without sound. While this principle of filmmaking theory may be true, without audio, a film lacks emotional engagement.
Surround sound systems bring you right into the drama or action on screen, making you jump as cars race by or bullets whizz around you. The introduction of Dolby Atmos blurs the line between fantasy and reality by generating a multidimensional sound field. This 3D bubble of effects, music, and dialog puts you right in the middle of the story.
GO BEYOND YOUR EXPECTATIONS
Are you looking to make movies matter again? See how we blend home automation with convenience and entertainment to enhance your life. Interested in getting started? Click here or give us a call at (858) 798-9130 today!

No video selected.