How to Control Your San Diego Home with Your Voice
The Amazon Alexa Transforms Smart Home Living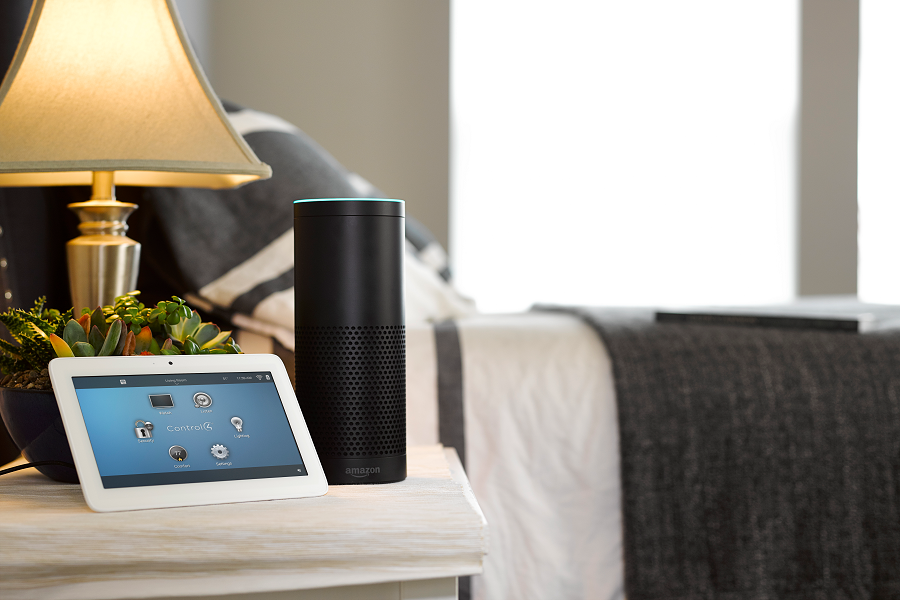 What if you could tell your home to turn off the security alarm and it would do it for you? Creatives have always imagined a future where we could control our homes with just our voices. For example, Captain Kirk in Star Trek asked the Enterprise computer for data during space voyages, and Marty McFly's son told his home theater to turn on three different TV channels in Back to the Future 2. Today, these ideas have come to life, and now you can enjoy voice control in your own San Diego, CA home with smart home automation. Keep reading this blog to learn more.

SEE ALSO: 3 New Smart Home Trends for 2017

The Amazon Alexa

Since Amazon released Alexa, the voice control system that runs on the smart devices, the Echo, Dot, and Tap, homeowners have been enjoying the benefits of hands-free automation. Not only can this smart device give you the weather report, turn the lights off, and order a pizza for you, it also works with your Control4 system to perform the same scenes you use every day—like "Wake-up", "Dinner" and "Goodnight".

Amazon's smart home director, Charlie Kindel, said the inspiration for Alexa came from Star Trek. They wanted to create a computer that is controlled entirely by your voice. You could ask it things, ask it to do things for you, and find things for you. Initially, Alexa was released as a standalone product that you could use to play music and connect with other wireless smart home devices – such as smart thermostats like Nest and Lutron lighting. However, our partner Control4 has developed drivers to integrate the Alexa voice control system into your smart home.

In a press release on Control4.com, Control4 CEO Martin Plaehn said, "On average, our customers have over 40 connected devices in their homes that are orchestrated by Control4. And now, voice interaction with Amazon Alexa offers another convenient way to control all of them. This integration combines Control4's automation power and extensive support for connected devices with the intuitive voice control from Amazon Alexa, reinforcing our shared vision to make life in a connected home ever-more personalized, comfortable, and hassle-free."

How do I Add Alexa to My Smart Home?

It's best to work with a professional to add Alexa to your San Diego smart home. You could purchase the Echo, Dot or Tap online, but you need an integrator to connect it to your Control4 system.

The Amazon Echo, Tap or Dot will need to be placed in each room—or the only rooms where you want to use voice control. We recommend you place one device in the living room, bedrooms, and kitchen. If you already have a Control4 smart home, we will integrate Alexa into your system. Once it recognizes your devices and scenes, your home is ready for voice control.

Say, "Alexa, dim the lights 60 percent," and it will change your lighting levels immediately. Or, ask Alexa to turn on a specific scene like, "Movie," and your motorized shades will come down to prevent glare, your 4K TV will turn on, and the audio will adjust to a preferred volume setting. Create any sequence using your Control4 app and access it with a voice command, it's that simple.

If you are interested in adding voice control technology to your home, fill out this online form.

No video selected.